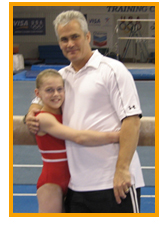 Geddert's Twistars is located in Lansing, Michigan. It has produced some of the nation's best Junior Olympic gymnasts. In fact, they have over 1440 wins and 37 defeats in State Championships competition! They have had many National Qualifiers, National Medalists, and National Team Members since 2000. In the last twenty-two years, over two million dollars worth of athletic scholarships have been awarded to Geddert's Twistars gymnasts.
John and Kathryn Geddert are the owners of the Geddert's Twistars. John and Kathryn are a former collegiate scholarship athlete. John has been awarded state or regional coach of the year fourteen times in five state areas. Kathryn has been awarded Regional coach of the year several times as well. Both John and Kathryn were awarded the first ever JO National Coaches of the Year Award in 2007. That was the first year that this award has been presented on a National Level. John and Kathryn were very proud to have received it!
Kamerin trains over 30 hours per a week with a group of level 10 and elite gymnasts. The group includes Kamerin, Rachel Cutler, Brittany Holmes, Isabell Hutchins, Lindsey Lemke, Bayle Pickel, Jordyn Wieber and Grace Williams.



Rachel Cutler


Brittany Holmes


Isabell Hutchins


Lindsey Lemke


Bayle Pickel





Jordyn Wieber





Grace Williams