Welcome to the Official Website of Kamerin Moore from Geddert's Twistars. At only fifteen years old, Kamerin has accomplished many achievements as a gymnast. She is two-time JO National Qualifier and three-time US National Qualifier. She was on the 2008-2009 Junior US National Team.
In 2007, Kamerin qualified to Junior Olympic Nationals where she became the Junior A Vault Champion. After the JO Nationals, Kamerin qualified to junior international elite and to the US Classic where she placed fifth in the all-around. At the US Classic, she qualified to the US Nationals and finished 13th in the all-around.
At the 2008 US Nationals, she finished 7th in the all-around and made the Junior US National Team. Kamerin competed in three different international competitions during the 2008-2009 season. She won nine total international medals at the Top Gym, USA vs Japan and Gymnix International. In 2011, Kamerin earned two gold medals on uneven bars and floor exercise at the Level 10 State Championships. She qualified to the JO Nationals after winning a gold medal on floor exercise at the Level 10 Regionals. At the JO Nationals, she placed fourth on floor exercise.
We hope this website will give everyone a chance to learn about this exciting gymnast and to get up-to-date reports on how she is doing with her gymnastics career. We hope you continue to support Kamerin in the future.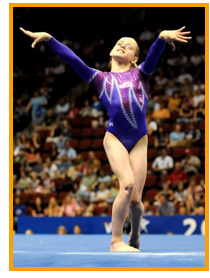 VISITOR #
Updated: May 12, 2012
Sign the Guestbook